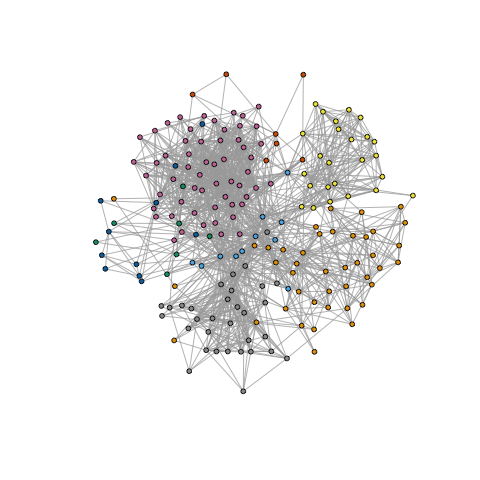 Instructor: Tim Chumley
Office: Clapp 423
Phone: 413-538-2525
e-mail: tchumley
Office Hours: Mondays & Wednesdays 1:00-2:00; Tuesdays & Thursdays 2:00-3:00 and 4:00-5:00; additional availability by appointment
Textbook: Introduction to Stochastic Processes with R by Robert P. Dobrow, ISBN: 9781118740651;
on library reserve under QC20.7.S8 D63 2016;
available as a free e-text
---
Announcements
Announcements will be posted on the Course Announcements Moodle forum throughout the semester, but essentially all other materials will be posted on this page.
Syllabus
Check the syllabus for all the important class policies (grades, attendance, etc.).
Homework
There will be weekly homework assignments throughout the semester to be turned in. Please read these guidelines for writing in our class.
General information. A selection of problems will be assigned to be written up individually and turned in each week.

These problems will be due Fridays at 5 pm.
You may work with others but the writing should be done on your own.

Gradescope. Homework will be turned in through Gradescope.

You should be enrolled automatically. Please let me know if you have any issues logging in.
Gradescope has made a short tutorial on submitting homework.

Collaboration. I want you to work together on the homework! The process of explaining your ideas to one another really helps in learning math. However, you must write up the assignments on your own and avoid copying others' work directly. Also, please only write what you understand so that I know where to help, and please avoid using online forums like Math StackExchange, solutions manuals, or similar resources. A huge part of learning in this class comes from figuring out how to get unstuck by spending time thinking on your own or talking to me and classmates; these other resources can end up being counter-productive in the long term.
Rewrites. Homework is for practice, and you are not expected to write perfect answers from the start!

You will be allowed to submit revisions of most problems for full credit each week.
Your revisions will be due on Fridays at 5 pm.
Please resubmit (only the problems you're revising) on Gradescope.
Exams
There will be two midterm exams. The dates for the exams are subject to change slightly.
| | | | |
| --- | --- | --- | --- |
| Exam 1 | Mar 11 | Take home | Chapters 1-3 |
| Exam 2 | May 9 | Take home | Chapters 6-7 |
Project
We'll devote the last week of the semester to a mini-symposium of short group presentations. Since the field of stochastic processes is rich with interesting examples and topics, more than we could cover in a single semester, each group of students will choose a topic/application that we might otherwise not have time for in class.
Assignments
Project notes related to your topic are due in advance of class on April 19.
Presentation on your topic will be April 28 or May 3.
Project report on your topic is due May 3, although it will be accepted any time until May 9.
Presentations
Course plan
Our plan is to cover most of chapters 1-3 and 6-7 in the textbook, and possibly some of 4, 5, or 8, time permitting. Below is a rough outline of what is to be covered week by week through the semester. Please check back regularly for precise details on what is covered, as well as postings of class materials like lecture notes.
Getting help
Here are a few ways to get help:
Office Hours: Mondays & Wednesdays 1:00-2:00; Tuesdays & Thursdays 2:00-3:00 and 4:00-5:00; additional availability by appointment

Study groups: Other students in the class are a wonderful resource. I want our class to feel like a community of people working together. Please get in touch if you'd like me to help you find study partners, and please reach out if you'd like others to join your group. You may work together on homework, explain and check answers, but make sure you write what you know on homework in order to get good feedback.
Piazza: I've set up an online forum for asking and answering questions about class material, including homework problems. My plan is to check the forum every day and answer questions as they come up, but I hope everyone in the class will pitch in and answer others' questions when possible.
Resources
Everyone is invited to join DataCamp, which provides an introductory R tutorial. It's a convenient way to gain some familiarity with R, a useful tool for our course and beyond. Our textbook also provides a thorough tutorial of some R basics in the appendix.
Our textbook also has a useful collection of R scripts available; contained there are all the R code snippets you'll notice interspersed in the text.
I've collected some resources to help you with some basics of RMarkdown.
Here are some useful RMarkdown documents that have code snippets for ideas that will be used through the class.